The 175 Heroes Exhibition
Celebrating the successes and contribitions of 175 former staff and students drawn from our 175 year history.
"Bradford College has a rich and innovative past, providing quality education and training in the city since 1832. This academic year we celebrate a 175 years of providing education and training in Bradford!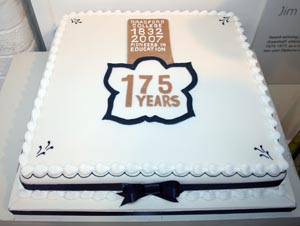 During the anniversary year we have had several events to celebrate our anniversary and look to our future including the 125th Anniversary of opening of The Old Building, A Founders Day Concert with music and prose reflecting tastes and events past and present in the College, contemporary art exhibitions celebrating new talent and the completion and handover of our new iconic building: Trinity Green Campus.

As we draw to the end of our anniversary year, our last event is here. The 175 Heroes Exhibition celebrates the achievements, successes and contributions of 175 former students and staff drawn from 175 years of College history.

The exhibition is proof that for many former students, staff and their families the links with Bradford and the region will stay with them throughout their lives. The generosity of all the former students and staff invited to participate in terms of giving us their time and loaning artefacts for the exhibition has been over whelming. Without you this exhibition would not have been possible. Thank you."
Clare Lamkin
175 Anniversary Project Manager

The exhibition runs from Friday 4th July until Friday 25th July 2008
The Yorkshire Craft Centre, Carlton Street, Bradford, BD7 1AY
Open Monday to Friday 10.30am until 4.30pm, with a special opening on Saturday 12th July from 12 noon until 4.30 pm.