Alex Corina
Former public health youth worker, civil servant and Head of the Home Office's Drugs Prevention Team in Liverpool and now a full-time artist, Alex Corina, studied Art Foundation at The Regional College of Art in 1969 and later studied Printmaking between 1975 and 1979. Alex is best known for his involvement in Liverpool's Capital of Culture and the iconic Mona Lennon.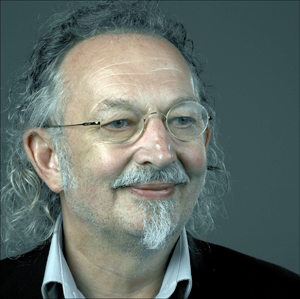 Between 1969 and 1975 Alex worked for the Students' Union before managing the New Lane Art Gallery, then worked at the Bingley Training College as a training and design technician. He returned to College in 1975 to do the College Diploma in Printmaking.

"I had started exhibiting and bought a couple etching presses to set up my own studio. Unfortunately I had to work nights as a hospital porter to pay for them and planned to do my work during the day. But I don't believe you could work in the NHS in those days and not be involved in the fight against low pay and conditions."

Alex became shop steward then branch secretary of the Bradford health workers' union NUPE. He was one of the leaders of the health workers' dispute of 1982 and the occupation of Thornton View Hospital in 1983 to 1984. During this period he became a Labour councillor. As a member of the Education Committee, Alex remembers serving on the College Corporation with Doris Birdsall between 1980 and 1982.

He attributes his involvement in politics to his family, especially his dad, Joe Corina, and his own involvement in the Students' Union. "In the 60s and 70s FE and students on discretionary grants were very much second class citizens. Students were much more politically conscious then locally, nationally and throughout Europe."

He met his wife on the picket line and moved to Liverpool for her career. Alex then retrained working in health promotion, eventually becoming advisor to Knowsley Council in Drugs Prevention and Training aimed at reducing harm from drugs misuse. After working freelance in drugs training, designing courses and material for HIV/drugs services, he became a Civil Servant and Head of The Home Office's Drugs prevention team in Liverpool. He was at the forefront of the fight against drugs at the height of the heroin epidemic in the 90s.

During this time Alex had been hankering to get back to his art and cut his hours to do a degree in Fine Art at Wirral College, Merseyside. Suffering major heart failure, his work began to explore his own mortality through looking at the irony of classical art such as the David statue and Rodin's Kiss and their immortality as they are constantly restored. In 2003 Liverpool bid for European City of Culture and Alex produced the Mona Lennon. This was used as signature of the bid and was launched at the House of Commons. When the judges walked out of Liverpool's Lime Street station they were confronted with two 80 foot by 50 foot versions of it at either end of St George's Hall.

Since then Alex has led a campaign to declare Garston a Cultural Village and for more community involvement in the Capital of Culture, stressing that economic and cultural regeneration should not be confined to the city centre. In May Garston was declared an Artistic Republic, asserting its cultural independence from Liverpool and a local derelict school became it's embassy with plans for a Community Arts and Cultural Centre. A twinning ceremony with Liverpool is to be held in September.
Photograph by Trevor Griffiths