Anne Wood
Founder and Creative Director of Ragdoll Productions Ltd, whose work is loved by children around the world, Anne Wood, trained as a secondary school teacher at Bingley Training College from 1956 to 1958.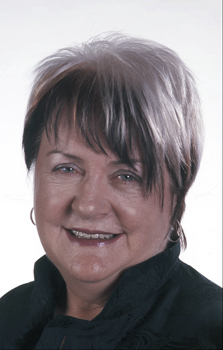 Since 1984, Ragdoll has produced more than 1,400 programmes aimed at the youngest viewers, which can be seen in more than 120 countries and territories around the world.

"My time at Bingley Training College changed my life. It gave me aspirations to work in the Arts. I remember various tutors with great affection – Mr Long (Drama) – we did Comus I remember - and especially Miss Pratt (Education) who taught us, 'never to underestimate the value of praise.' I've tried to remember that."

Studying in Yorkshire also led to the then Miss Savage, who hailed from County Durham, meeting her husband in Leeds. As a teacher Anne wanted to encourage her pupils to read and she became an early pioneer of a children's paperback book club scheme for schools set up by Scholastic Publications. In 1965, she founded a quarterly magazine, Books for Your Children and in 1969, she set up the Federation of Children's Book Groups. That same year, Anne was awarded the Eleanor Farjeon Award for her distinguished contribution to the promotion of children's books, a fact proudly reported in the BOSA (Bingley Old Students' Association) magazine.

Anne became a consultant embracing book publishing, radio and television. Yorkshire Television contracted Anne to produce The Book Tower, a series intended to stimulate children's interests in books, which was awarded a Children's BAFTA and the prestigious international children's television award, the Prix Jeunesse. After adapting Jean Kenwood's Ragdolly Anna for television and producing an English version of the Moomins for ITV, Anne was invited to create a children's department for TV-AM in 1981, commissioning the anarchical character, Roland Rat.

Anne took the leap into independent production in 1984 and set up Ragdoll. Its children's programming, including
the phenomenally-successful, BAFTA-winning Teletubbies that celebrated 10 years on television in 2007; the superbrave superhero Brum; the mischievous ragdolls Rosie and Jim; the adventures of Tots TV; the imaginative and magical Boohbah; the bubbly Blips; Bad Jelly the Witch and Open a Door, have all achieved international recognition. Ragdoll's latest commissions for BBC Television, include BAFTA-winning In the Night Garden, which launched on CBeebies and BBC2 in 2007 and Tronji to air on CBBC in 2008.

Anne was made a Fellow of the Royal Television Society and won The Veuve Clicquot Business Woman of the Year Award in 1998. She received a Special BAFTA for her outstanding contribution to children's television and her CBE for services to Children's Broadcasting in 2000. She was awarded The Olswang Business Award from Women in Film and Television in 2003, and she received the Harvey Lee Award for her outstanding contribution to broadcasting from the Broadcasting Press Guild in 2007.
Photograph supplied by Ragdoll