Becky Truman
Founder and Artistic Director of the award winning Skinning The Cat, Becky Truman, graduated with BA (Hons) Art & Design in 1988.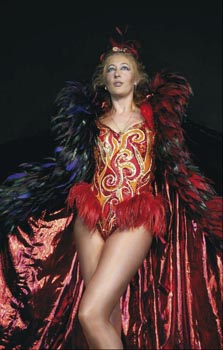 "I had a brilliant time at Bradford College. What I wanted to do wasn't just performance or fine art, so when I found an art & design degree that catered for generalists and allowed them to work in a complex way across the spectrum I thought I had died and gone to heaven. Tutors gave me a free reign but support and College had good community arts links. College gave me projects but I was able to tailor them to fit what I wanted to do.
When I was in the 2nd year of my degree I convinced Tom Clinton of the Bradford's Bouncing Back campaign to give me £2000 of their budget to stage a fashion cabaret showcasing designers in a nightclub. I had a ball! For my final degree show I did an aerial performance featuring my own costumes and sculptures at Carlton Bolling theatre workshop.

Then the Bradford Festival commissioned me to organise a fashion cabaret and perform a trapeze show in the Wool Exchange. This work formed the basis for Skinning the Cat and after I got Princes Trust funding to buy a van, I was set."

The company was the first in the UK to tour on an aerial rig and pioneered contemporary circus. They went on to tour Europe to critical acclaim. In 1993 Becky was awarded the Prince's Youth Business Trust Young Achiever of the Year award presented by Jasper Conran and was featured in Martin Miller's book The Best of British Women. Becky created a special show for the Millennium Dome and she was artistic director for the 2002 Commonwealth Games Opening and Closing ceremonies in the Sponsor's Village.
Photograph supplied by Becky Truman