Bob Hardy
Bassist with chart topping rock band Franz Ferdinand, Bob Hardy, completed the Foundation in Art & Design at Bradford College in 1999.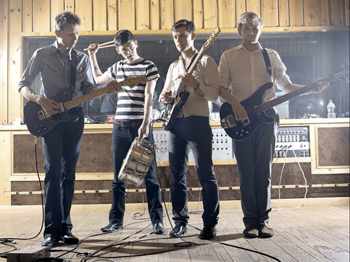 Bob showed artistic rather than musical talent during his year at Bradford College. Lecturer Andy Griffiths recalls "He did quite a lot of printmaking with us. He had a wry, satirical sense of humour and was a jolly, sociable student but he was quite perceptive in his work. He was a talented artist but I was not surprised about him being in a band as art colleges have always been breeding grounds for bands. Obviously the extent of their success has been a big surprise."
Bob had no musical ambitions until he enrolled at Glasgow School of Art and made friends in the city. He first picked up a bass guitar in Alex Kapranos' kitchen that had been donated by Mick Cooke from Belle and Sebastian.

Thus they became Franz Ferdinand, Glasgow's art-damaged rock quartet featuring Bob on bass, guitarist Nick McCarthy, drummer Paul Thomson, and singer/guitarist Alex Kapranos. In late 2001, Kapranos and Hardy had begun working on music together when they met McCarthy, a classically trained pianist and double bass player who originally played drums for the group despite no prior experience as a drummer. The trio had been rehearsing at McCarthy's house for a while when they met and started playing with Thomson, a former drummer for the Yummy Fur who felt like playing guitar instead. Eventually, McCarthy and Thomson switched to guitar and drums, and the band switched practice spaces, stumbling upon an abandoned warehouse that they named the Chateau.

The Chateau became Franz Ferdinand's headquarters, where they rehearsed and held rave-like events incorporating music and art (as well as Bob's attendance at Glasgow School of Art, Thomson had also posed as a life model there). The band members needed a new rehearsal space once their illicit art parties were discovered by the police, and they found one in a Victorian courthouse and jail. By summer 2002, they recorded an EP's worth of material that they intended to release themselves, but word of mouth about the band spread and Franz Ferdinand signed to Domino in the summer of 2003, just after Bob graduated with his BA (Hons) Painting degree.

The group's EP Darts of Pleasure, which led some to label Franz Ferdinand 'the Scottish Interpol' was released that autumn. Their second single, Take Me Out, arrived in early 2004 and propelled them to greater popularity in the UK, laying the groundwork for the band's debut album. Franz Ferdinand was released in February 2004 in the UK and a month later stateside. Success followed them across the pond. Take Me Out became a sizeable modern rock hit, in part thanks to the song's cutting-edge video, which earned the Breakthrough Video award at that year's MTV Music Video Awards. They went on to win an Ivor Novello Award in 2004.

In 2005 Franz Ferdinand won 2 BRIT Awards and performed at the Grammy Awards. They released their second album, You Could Have It So Much Better in autumn 2005, when it entered the UK Album Charts at Number one. The band has recently been holed up in the studio recording their 3rd album, to be released this autumn, and is currently on tour.
Photograph supplied by Supervision Management