Butler Wood
Library visionary and champion of reading for all social groups, Butler Wood was a prize winning
student at the Bradford Mechanics' Institute in 1872.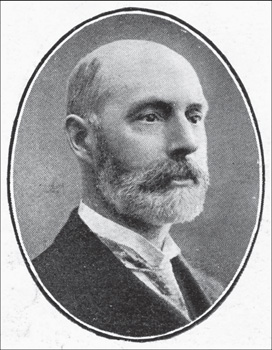 Son of a bookseller, Butler Wood was born in Bradford in 1854. He developed an interest in art and literature in his father's bookshop where he spent much time of his formative years. At his retirement he revealed that the Penny Dreadfuls had instigated his interest, and whilst 8 or 10 years old he had read Dick Turpin's Ride To York, Springheeled Jack and Jack The Ripper.

His formal education began at Walker's Factory School where he worked as a half timer alongside his woolcomber grandfather. Later, at the Bradford Mechanics' Institute, he excelled at reading and dictation. The Bradford Mechanics' Institute Annual Report of 1872 states that he won equal first in the annual 'Reading and Dictation, Higher Class' examination, and was awarded the Complete Works of Robert Burns. He also won first prize for Dictation, and was awarded the Christian Philosopher by Thomas Dick.

In 1874, Butler came across Thomas Hardy's Far From the Madding Crowd serialised in the monthly Cornhill Magazine. When it was finished, he cut out all the instalments he had waited eagerly for, and had them bound together. This was to become one of his most treasured possessions.
Butler discovered the library at the Zion Chapel in Bridge Street aged 14. In 1875 aged 21, he was appointed Sub
Librarian to Charles Virgo at the Free Library. The Library moved to a new location in 1878 and an Art and Museum Gallery was opened on the top floor in 1879. Butler was appointed Bradford's Chief Librarian and Secretary in 1884, with the salary of £150 per annum, and the City Art Gallery was added to his responsibilities in 1885. He was an innovative Librarian, and a champion of free book reading for all social groups, saying that libraries "made it possible for all to lift themselves out of the humdrum surroundings of life and project themselves into the realms of imagination by means of the printed book."

In his 50 years, he was the main instigator to increase the number of borrowers from 4,150 to 31, 600. He was also
passionate about setting up smaller additional branch libraries, and increased 7 library departments to 31 and he
was responsible for City Art Galleries Cartwright Hall and Bolling Hall. He increased the staff from 14 to 112 staff,
book numbers from 23,000 to 251,198 and annual issues increased from 151,000 to 1, 553,000.

Butler also introduced many new ideas to the Library, including Sunday opening 2pm to 8pm in 1884, electric light in 1890, the first municipal building to be lit by a council electricity supply, a Braille book collection in 1892, a travelling library in 1902, the card catalogue in 1905 and a foreign fiction section in 1907.

A testament of the Bradford Telegraph in 1911, stated: "The reference library is so thoroughly organised that the visitor may go with but a vague idea of his quest and be put promptly in touch with the authorities he needs. ... The reference department has been so copiously and judiciously augmented in its resources as a storehouse of information that it is of the highest utility to the student poring over his task, the local politician looking up authorities, and the more solid man engaged upon book research. The patents department is of rare commercial value".

Butler died in 1934 aged 80.
Photograph from 1904 Bradford Exhibition Souvenir