Clare Caulfield
Artist and Printmaker, Clare Caulfield, studied at Bradford School of Art in 1996/7.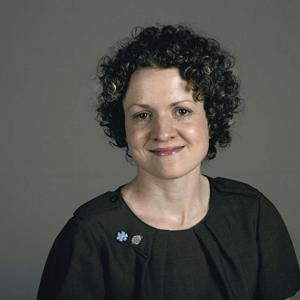 "I spent a very enjoyable year at Bradford College when I completed my Foundation Studies in Art & Design. This challenging course introduced me to a wide variety of opportunities. It allowed me to experiment with new techniques and processes and to develop creatively in completely new disciplines including illustration and screenprinting, both of which feature very strongly in my work today as an artist and printmaker."

Clare went on to study at Staffordshire University where she graduated with a First Class Honours Degree in Surface Pattern Design in 2000. Since then she has continued developing her very individual illustrative style working with pen, watercolour, acrylic, pencil and collage. Her work has been exhibited in galleries throughout the country. Clare also uses various printmaking techniques within her work. Her love of drawing and use of line have been developed into drypoints and screenprints. She also teaches weekend screenprint courses and has run workshops for groups of young people with learning disabilities.

Clare credits the early work of artist Stephen Wilshire as being a huge influence and she has been inspired by her travels to some of the world's greatest cities including New York, Paris, and Venice. Drawing has always been a very important part of Clare's work. She is fascinated by architecture be it the Midtown skyscrapers of Manhattan, The Grand Canal in Venice or simply capturing Parisian life outside a brightly canopied pavement café, from which she strives to create spontaneous lively linework. Clare sells a range of handmade screenprinted cards of New York, Paris, Venice and London, each one being an original signed print. Her cards are stocked in galleries including the Yorkshire Craft Centre.

Closer to home, Clare has turned her attention to the beautiful Victorian architecture found within Saltaire village: Salts Mill, The United Reformed Church, the shop fronts of Victoria Road and the cobbles of Albert Terrace have all been interpreted in Clare's unique and instantly recognisable style of working. Clare was commissioned by Salts Mill to produce a limited edition of original screenprinted cards portraying the mill. She has also been engaged by Victoria Hall in Saltaire to produce a piece of artwork of the hall to be displayed within the foyer area.
Photograph by Trevor Griffiths