David Hockney
English painter, printmaker, photographer and stage designer - Bradford's best known artist
of the 20th and 21st centuries - David Hockney joined Bradford Regional Art School in 1953,
graduating with honours in 1957.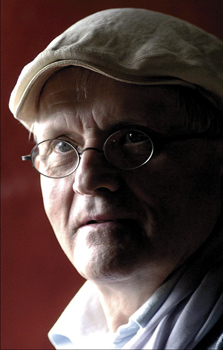 In 1948 David won a scholarship to Bradford Grammar School, where he excelled in art. In 1950 David asked his parents to move him to the Bradford Regional Art School but he was compelled to continue his general education. In 1953 David took a portfolio around commercial art studios in Leeds but they all advised that he went on to art college, which finally persuaded his parents to allow him in September 1953 to join the Bradford Regional Art School.

One of David's first experiences was Frank Johnson's life drawing class, where he found himself extremely embarrassed when encountered by a nude model for the first time. Other students in his peer group included David Oxtoby, John Loker, Peter Kaye, Norman Stevens and Michael Vaughan. The students were either in the Commercial Art group or the Painting group.

David was in the Commercial Art group but soon asked to be transferred to the Painting group. He announced that he wanted to become an 'artist' but the staff told him that unless he had a private income that this was impossible. However David insisted and as he had GCEs he was allowed to transfer. David enjoyed his drawing classes so much that he used to stay on for the evening classes meant for members of the public.

The Principal had little empathy with the Painting students as he favored the commercial art courses which were training students for paid employment. Fortunately there were tutors who were in favour of painting including Fred Lyle, Derek Stafford and Frank Johnson. These tutors believed that drawing 'was a process of seeing and thinking rather than imitation' and students were taught to feel their way through the form. Frank Johnson and Derek Stafford used to exhibit at the Royal Academy summer exhibitions and in 1957 they persuaded David to submit pictures for that year's exhibition and he was accepted! In 1957 David graduated with honours .

From 1957 to 1959 he worked in hospitals as a conscientious objector to fulfill the requirements of National Service. For the first year he worked at St Luke's hospital but then moved to Hastings to join Loker and Kaye. In 1959 he joined a three-year postgraduate course at the Royal College of Art, London, graduating with the gold medal for his year in 1962, the start of international fame.

David Hockney's output and success in everything that he turns his hand to is endless. He has demonstrated fine craftsman ship in every discipline. A contemporary of Hockney's Tom Phillips writes that 'his seemingly effortless draughtsmanship is the envy of fellow artists'. He is indeed a fine artist, painter, draughtsman, graphic artist, print maker, photographer and set designer.

One of Bradford's most famous sons, David Hockney received the Queen's Companion of Honour award on his 60th birthday in 1997 and in 2000 was made a Freeman of the city. More recently Hockney has returned to his beloved East Yorkshire where he used to paint as a teenager and as an adult visit his mother and sister in Bridlington. The East Yorkshire landscape has provided the primary source of inspiration for his most recent work.

Much of Hockney's work is now housed locally at the 1853 Gallery at Salts Mill in Saltaire Village. The ground floor showcases early drawings to recent oil paintings and on the third floor, there is a special show of opera sets, paintings and drawings, a fitting accolade to David Hockney's versatility and prolific output.
Copyright picture courtesy of the Telegraph & Argus, Bradford