David Oxtoby

Artist David Oxtoby, attended Bradford Regional College of Art from 1950 to 1957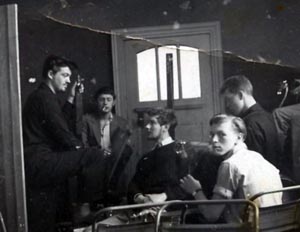 David Oxtoby attended the Bradford Regional College of Art from 1950 to 1957 where he met among others, David Hockney. After leaving the Art School he worked for 3 years in anything from manual labouring to being a commercial artist on Blackpool illuminations and as a scene painter for the theatre. In 1960 he began a degree in painting at the Royal Academy, completing his studies in 1964. Shortly afterwards David took a teaching job in Minnesota, staying there almost a year.
David has almost exclusively devoted his work to drawing and painting portraits of famous musicians and singers, celebrating the music he loves. He recalls "I started working on musical subject matter while studying graphics at Bradford College of Art during the fifties, completing three or more self-imposed record covers a day. These were actually small paintings (a fact I didn't realize for many years) with lettering typeset in the Print Department and shoved on as an afterthought." (A personal biographical statement by David Oxtoby as published in the catalogue of British Pop, Museo de Bellas Artes de Bilbao, Spain, 2005/06.)

Little survives of his work from the 1960s because of the loss of four years work in a warehouse fire. David Oxtoby did paint Lennon, McCartney, Elton John, Bowie, Jimi Hendrix but his main passion was for the American artists who redefined the meaning of rock music including Elvis, Chuck Berry, Jerry Lee Lewis, Carl Perkins, Little Richard etc. Much of his work is derived from photographs and captures the energy and excitement of the music he followed.

Since the early 1980s Oxtoby has withdrawn from exhibiting to concentrate on a major series of paintings which pay respect to the music he grew up with. His paintings recreate the emotion, and excitement that characterise rock music.

Examples of David Oxtoby's work can be found in collections at the Tate, the National Portrait Gallery, Cartwright Hall, Sheffield City Art Gallery, The Whitworth, Glasgow Museums and Galleries and globally including Brazil, New York, Minneapolis, and Chicago. David has exhibited his work all over the world both in one man shows and in group exhibitions including the Redfern Gallery London, Cartwright Hall, Skipton Castle and The Royal Academy.
Photograph courtesy of John Loker shows the Common room at the Regional College of Art in Bradford in 1956. On left, David Oxtoby, on tea chest bass, John Loker on washboard and Norman Stevens on vocals.