Edward Hindle
Eminent biologist and zoologist who introduced the golden hamster to the UK, Professor Edward
Hindle, completed the Diploma in Chemistry & Dyeing at Bradford Technical College in 1903.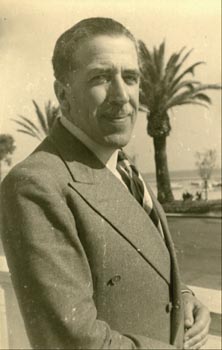 Classes at Bradford Technical College set Edward Hindle on the path of a prestigious career which saw him travelling the world. A Bradford City Council Exhibition holder, he passed the College Diploma in Chemistry & Dyeing and won first place in a National Scholarship in Biology at South Kensington.
After 3 years at the Royal College of Science and then King's College in London, he achieved his Associate in Zoology in 1906. He became a Research Assistant at the School of Tropical Medicine in Liverpool in 1907 and the following year worked at a marine biological station before research at the University of California. He was awarded his PhD in 1910. Apart from the summer of 1911, when he studied at the Institut Pasteur in Paris, he undertook research and study in Cambridge, gaining a BA in 1912 and an MA in 1917, and years later in 1929, he was awarded a DSc.

His career was interrupted by WWI and he served with the Royal Engineers Signals Service in France and Palestine. After the war he travelled widely in various high profile posts overseas, interspersed with prestigious research positions in London, specialising in tropical medicine, and undertaking research in in protozoology and parasitology, particularly insect-transmitted infections. He spent 5 years as Professor of Biology and Parasitology at the Cairo School of Medicine, followed by a year at the London School of Hygiene & Tropical Medicine; 3 years with the Royal Society's Kalaazar Commission in China preceded 5 years as Research Fellow in Tropical Medicine at the Wellcome Bureau of Scientific Research in London.

He was Regius Professor of Zoology at the University of Glasgow from 1935 until 1944, founding and becoming President of the Zoological Society of Glasgow during this period. He then became Scientific Director at the Zoological Society of London from 1944 to 1951. He was a Fellow of the Royal Society, made a Freeman of the City of London, and he held executive positions in a number of distinguished societies, including General Secretary of the British Association for the Advancement of Science, Founder and First President of the Institute of Biology, and Honorary Secretary of the Royal Geographical Association.

He received the first pair of golden hamsters from Syria and retained a lifelong interest in them, writing the foreword to Jean Cook's Hamster Guidance in 1948.

Professor Edward Hindle died in January 1973.
Photograph supplied by the University of Glasgow