Ernest Aris
Prolific writer and illustrator, Ernest Aris, studied for his Diploma in Art at Bradford
Technical College School of Art in 1900.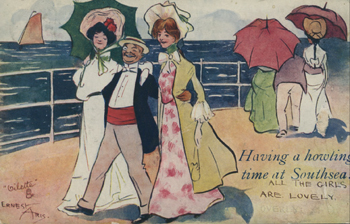 Alfred Ernest Walter George Aris was born at 38 Muriel Street, Islington, London, on 22 April 1882 to lithographic artist Alfred Henry Aris, and his wife Emily Juliet Wright. The family moved to Bradford where he attended the Technical College School of Art, and studied for his diploma in 1900 under the tutorship of Charles Stephenson. He later studied at the Royal College of Art in London.

He began his career as a portrait artist and art teacher, working in watercolour and charcoal and wash, and exhibited his work at the Royal Academy, Royal Society of British Artists, Royal Society of Painters in Watercolours and the Royal Institute of Painters in Watercolours.

By 1909, Ernest was illustrating for magazines such as The Graphic and writing and illustrating children's books about the antics of anthropomorphic woodland animals. The illustration exhibited in the cabinet is from the December 1915 edition of Little Folks magazine. His illustrations were also used for advertisements, cigarette cards, games, jigsaw puzzles and seaside postcards. He was elected to the membership of the Society of Graphic Artists in 1943.

A prolific writer, Ernest also published his work under pseudonyms such as 'Robin A Hood' and 'Dan Crowe'.

In 1934 Cadbury's commissioned Ernest to design the 'Cococubs', a collection of animal characters to be given away free with a new line 'The Children's Cocoa'. Initially a collection of 15 brightly painted lead toy figures manufactured by William Britain's, they were such a success the collection was increased to 32. It was hailed as one of the greatest advertising schemes of the time, with an estimated 300,000 children collecting them. Ernest also illustrated these characters in The Cococub News.

Ernest stopped writing books after The Ernest Aris Nature Series published by Fountain Press and a drawing manual, The Art of The Pen (1948), but he continued to illustrate books such as the Tasseltip Tales (1947-53), a Ladybird series by Dorothy Richards, The Enid Blyton Book of Brownies, and Birds of Our Gardens by Enid Blyton. His illustrations were still being used in a series of books published by Ladybird in 1989.