Wing Commander Frank Metcalfe CBE
Bomber Command Oboe Controller who later became Director General of the Engineering Industry Training Board, Frank Metcalfe, studied Engineering at Bradford Technical College in the 1930s.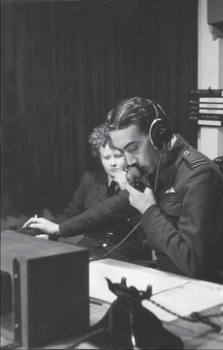 Born in Shildon, County Durham in 1919, Frank studied Mechanical Engineering at Bradford Technical College and attained First Class Honours in his external London degree.
He joined the RAF in 1939 initially serving with No 82 Squadron as a bomber pilot. In November 1940, when returning from a raid attacking crucial railways networks in the Rhine, his air gunner was killed by German fire and his stricken Blenheim bomber eventually fell into the sea as it was returning home. Frank and the navigator managed to escape drowning when their dinghy was picked up by the destroyer Vega, which was then hit by a mine. After plastic surgery and 6 months in hospital, the day after his release he survived a train crash that killed 60 people.

Frank was transferred to Bomber Command headquarters in 1941. Professor Alec Reeves had invented a top secret bombing system, Oboe, in which a radar beam was broadcast in the direction of the target while another beam tracked an Oboe-equipped Pathfinder Mosquito bomber. The Oboe controller back at base then guided the aircraft to the target with a previously unknown degree of accuracy, even in conditions of zero visibility. Air Vice-Marshal Don Bennett made Frank Oboe Controller at Pathfinder Group HQ and Frank's meticulous mastery of operations played a key part in the precision bombing credited with altering the course and outcome of WWII.

After the Normandy landings Frank led the first ground station to move inland from the beaches. He was mentioned in dispatches 3 times and given an Air Efficiency Award. After the war Frank became an important figure in education and technical training. In 1958, he established the Civic College in Ipswich, which included schools of art, commerce, engineering, building, science, home economics and general studies. As Principal he expanded provision to incorporate new developments in further education for young people, plus additional facilities for adult education in music, drama and visual arts. He also wrote a number of engineering textbooks: Heat Engines (1960); Applied Thermodynamics (1963) Heat Engines and Applied Heat (1966).
In 1965 he joined the newly formed Engineering Industry Training Board as Chief Education and Training Officer, later becoming Director General. Frank initiated significant developments in industrial training. Frank retired in 1978 and that year received the CBE and an Honorary Doctorate of Technology from Loughborough University for his contribution to industrial education. He devoted his time to new responsibilities, becoming Chairman of the Shipbuilding Training Board and the Sea Fisheries Training Council.

Ironically for a man who always be remembered for his pivotal role in 'Oboe' one of Frank's interests in retirement was making musical instruments, although these were mostly violins, violas and guitars.

Frank died in March 2002, aged 84.

Photograph courtesy of the Daily Telegraph. Many thanks to David Twiston-Davies of the Telegraph and Jenny Clark, Archivist at the University of Loughborough for their assistance.