Friederich Wilhelm Eurich
Research bacteriologist at the Pathological and Bacteriological Laboratory, Bradford
Technical College 1900 to 1905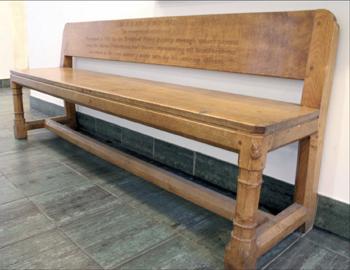 On Friederich Eurich's death in February 1945, the Yorkshire Observer recorded that he "did so much to conquer the
disease of anthrax and whose contributions in the cause of medicine were so outstanding."

Friederich Eurich first came to when his family emigrated from Germany so that his father could undertake employment at a large yarn mill in Bradford. Friederich was educated at Bradford Grammar School and trained in medicine at Edinburgh. In 1897 he submitted his MD whilst practicing as a neurologist at the Lancashire County Asylum and received one of four gold medals awarded that year.

In 1896 he set up a general practice in Bradford and was appointed honorary physician at the Bradford hospitals. In 1900 he took the additional role of class assistant to Professor H.J. Campbell, the Professor of Forensic Medicine at Leeds Medical School. In 1900, Bradford established a Pathological and Bacteriological Laboratory in a room at the Bradford Technical College, where Friederich accepted a position as bacteriologist. In 1905 Eurich became the Bacteriologist to the Bradford Anthrax Investigation Board.

Anthrax is one of the oldest recorded diseases of grazing animals such as sheep and cattle and can also infect humans, usually as the result of coming into contact with infected animal hides, fur, wool, commonly known as the '"Woolsorter's disease' and until the twentieth century anthrax killed many thousands of animals and thousands of people each year. In 1881 French scientist Louis Pasteur developed the first effective vaccine for anthrax. Numerous measures were taken to reduce the risks to the sorters of the fleeces. The research carried out by Eurich found the cleaning of the fleeces was fundamental to the eradication of the infection. Through Eurich's contribution as Bacteriologist to Anthrax Investigation Board, various medical, and legal measures were imposed against anthrax culminating in the Anthrax Prevention Act of 1918.

In 1908 Friederich Eurich was appointed Professor of Forensic Medicine at Leeds Medical School where he continued his research, taught medical students and for an honorarium of £38 undertook internal examining duties until 1932. In 1937 the Textile Institute presented Eurich with its medal, the first non-member ever to receive the award.

The Robert Thompson bench that you see here inscribed with the words 'He conquered anthrax' was presented in 1967 by the Bradford Civic Society to the Technical College's Textile Department on the centenary of Eurich's birth.
Photograph Bradford College. Text by Clare Lamkin.