Govinder Nazran
Internationally successful commercial artist, Govinder Nazran, completed a National Diploma in Graphic Design at Bradford Art College in 1983.
Govinder's prints and sculpture sell throughout the world and he was named Best Selling Published Artist at the Fine Art Trade Guild Awards in 2004. He produced a range of Govinder Ceramics for Royal Worcester in 2005.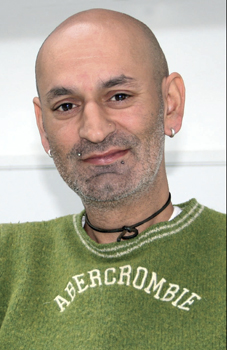 "I was born in Birmingham but my parents moved to Bradford when I was very young. Since I was small I was always into art and drawing all the time. Being an artist was the only thing I ever wanted to do. I went to Bradford School of Art straight from school and I loved it. I spent 2 years studying Graphic Design in Junction Mills on Thornton Road. I saw the work of Arthur Rackham and Edmund Dulac and that's when I got hooked on illustration.

It was great fun – mostly the usual student thing of going down the pub! I am still in touch with a few of my old classmates, particularly Mick Thornton, who does lighting for big bands and people like David Bowie. I came away with a distinction and then did an HND Illustration at Lincoln.

I went off to London, found an agent and started illustrating children's books. I then moved to Cambridge for a year, still working as an illustrator, but a combination of missing my family and being skint prompted me to move back up North. I stopped doing illustration as it didn't pay too well and went into greeting cards work for Hallmark.

I soon became their highest paid designer, earning £350 for a card compared to £175 other regular artists were paid. But I decided I wanted to work on a bigger scale and so I sought out the best fine art publishers. I took 3 unframed canvases to a trade fair at the NEC and I accepted a 5 year contract from Washington Green the same day. I have been with them for 10 years now and my work sells in the USA, Australia, New Zealand and Japan, where I tour every year."
We are very sad to note that Govinder died following a tragic accident in December 2008, when he was just 44. We greatly appreciated his fine talent and generous support of this exhibition.
Photograph and text by Shelagh Ward