Harry Scargill
Head of the Department of Linguistics, University of Victoria, Canada; Founder and President of the Canadian Linguistic Association, Professor Harry Scargill, taught English at Bradford Technical
College from 1944 to 1946.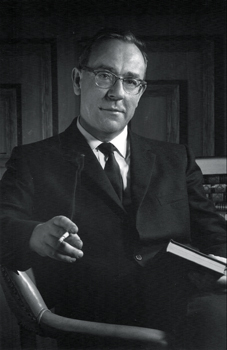 (Matthew) Harry Scargill, a Barnsley lad who enjoyed a distinguished academic career in Canada and became an international authority on Linguistics, began his professional career at Bradford Technical College.

He came to College to teach English in 1944, having attained a BA (Hons) English degree and PhD at the University of Leeds. After 2 years in Bradford, he moved to London as Assistant Director of Examinations for the Civil Service Commission, before emigrating to Canada in 1948 to become Assistant Professor of English at the University of Alberta. Ten years later he became a Professor, and in 1959 he joined the University of Calgary as Head of the English Department, later becoming Dean of Arts & Sciences. In 1954 he set up the Canadian Linguistic Association, initially acting as Secretary and Editor of the Canadian Journal of Linguistics.

In 1964 Harry set up Canada's first English-speaking Department of Linguistics at the University of Victoria and later established the faculty of Graduate Studies, before becoming Head of the Department of Linguistics in 1970.

Harry's contribution to distinguished scholarship earned him numerous accolades: Canada's Centennial Medal for his work as the author of the Dictionary of Canadianisms on Historical Principles in 1967; he became a Fellow of the Royal Society of Canada in 1970; received the Queen's Silver Jubilee Medal in 1978; and was awarded an honorary Doctor of Laws by the University of Victoria in 1988.

His other publications included The Earliest Examples of the West Riding Dialect (1939); Folktales from Iceland (1942); The Development of the Earliest Sounds of Indo- European (1952) and English Handbook (1954). Harry also co-authored Three Icelandic Sagas (1950) and Looking at Language (1966). Harry retired in 1981 but continued working on the revised Gage Canadian Dictionary although failing health forced him to give up before the project's completion.

Harry Scargill died in August 1997.