Ian Appleyard
Champion rally driver, Olympic skier, businessman, ornithologist and photographer, (Ernest) Ian Appleyard, attained a BSc (Hons) Mechanical Engineering at Bradford Technical College in 1943.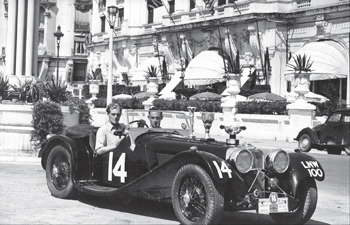 Ian began his career as an apprentice at the family car sales business in Leeds in 1940, attending Bradford Technical College to study Mechanical Engineering. He graduated with a first class honours degree in 1943.

Following graduation he served in the Royal Electrical and Mechanical Engineers, where he became an instructor in Tank Technology at the Military College of Science and had achieved the rank of Major at only 23.

After the war he returned to the family business becoming a director of Appleyard of Leeds, the firm set up by his father when Ian was only 4, in 1946. The firm was already a successful Morris, Jaguar and Daimler dealership. But Ian was not just selling cars he was racing them, with international successes.

Borrowing a second hand SS Jaguar 100 from Appleyard's showroom, he and an old school pal entered the treacherous 2000 mile Alpine Rally, coming third on their first outing in 1947. He went on to win the Cup 3 times in a Jaguar XK120. He had various other rally victories and tried motor racing, actually beating Stirling Moss at Silverstone in 1955.

The Appleyards were excellent skiers and Ian and his brother reached Olympic standard. Sadly Geoffrey was killed in Sicily during the war so only Ian represented Britain in the 1948 Olympics in St. Moritz, Switzerland. Ian was a complete sportsman and also played tennis for Yorkshire. Ian was also focussed on the motor business and by 1956 he had become MD of Appleyard's, developing the group. He retired as Group Chairman in 1988 but he was not at a loss for how to fill his time.

Ian and his brother had always loved nature, particularly birds, from being children. Ian won his school ornithology prize when he was 12. Ian returned to his fascination with birds as he got older, spending years observing the ring ouzel and becoming a world expert on this rare bird. His book Ring Ouzels of the Yorkshire Dales, featuring his own photographs, was published in 1994.

Ian was President of the Motor Agents' Association, Chairman of the Austin Rover Dealer Council and President of the Council of Leeds Chamber of Commerce. He was also a Trustee of the Jaguar Daimler Heritage Trust, who kindly supplied the photograph of Ian in his SS Jaguar 100 with trophies seen here.

Ian died in June 1998.
Photograph coutesy of the Jaguar Daimler Heritage Trust