Jack Smith
Former MD of ILG, Chairman of Bradford Breakthrough, Founding Director of Bradford Congress, Jack Smith passed his Chartered Institute of Secretaries examinations after attending evening
classes at Bradford Technical College in the 1950s.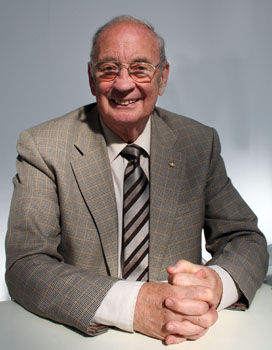 Jack grew up with an obvious talent for football and when his father returned from the war it was his dream to see young Jack turn professional so he could earn £8 for match weeks and £5 on the other weeks, 'for doing nowt!' However the day before his school leaving certificate exams Jack badly injured his leg under a cricket roller, so he had to rethink his career plans. "The man from the Employment Bureau came to school and sent me to be an office boy at Sir James Hill's, because Sir James was mad on sport. I got the job because I was a footballer."

Once there Jack worked hard and promotions followed. He spent 4 years attending evening classes at College. "It was a hard slog. Classes 3 nights per week and another 2 nights spent on homework. I preferred doing to studying but I did it simply to prove to my prospective parents in law that I was worthy of their daughter." Jack's hard work paid off handsomely in personal and career terms. He celebrated his golden wedding in June 2008 and he rose to the top of the company.

Jack became Financial Director of Hill's synthetic division, YSF Converters Ltd. "We could see that wool textiles were declining so each director was given the task of looking at diversification. I identified holidays as a growth area, did some sums and took over Taber Travel. I presented a paper and said if we invest £24,900 we could make £17,000 profit in year one. The Chairman, Michael Jacobs asked me 'Can you make brass, lad?' and when I affirmed this, they gave me the go ahead. That first year we went into Intasun, we made £220,000 and £1.2m the second year, becoming the second biggest travel firm in the country."

Jack became MD of ILG until the company was sold to Harry Goodman. Jack was President of ABTA from 1986 until 1989, taking 5000 British travel agents to a convention in Australia. "My College course gave me the confidence to do all this."

Jack was given an honorary doctorate by the University of Bradford in 1997 for his contribution to the economic and environmental regeneration of the district and his promotion of business and employment. He is Chairman of Bradford Rotary Club.
Photograph by Shelagh Ward