Jacob Moser
A founder of the new Technical School in 1882, Jacob supported many other good causes in Bradford. He was Secretary of Bradford Technical College in 1899 and 1900.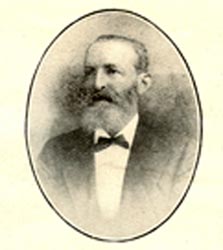 Many of the European merchants who moved to Bradford in the 1800s were Jewish, practising Reform Judaism, a more relaxed form than Orthodox. Jacob Moser was the only one of the great German Jewish merchants of Bradford who took a direct interest in Jewish affairs. Originally from Denmark, he had a strong Jewish upbringing and was one of the founders of the Bradford synagogue.

The European merchants played a vital role Bradford's textile industry. They helped found the Chamber of Commerce and made up a quarter of its members between 1851 and 1881. In addition they also had an important impact on the political scene: Charles Sermon was Bradford's first foreign-born Mayor in 1864 and in 1910 Jacob Moser became both Lord Mayor of the City and Chief Magistrate.

Jacob, born in 1839, was one of the founders of the Bradford Charity Organisation Society and the City Guild of Help. He was involved in founding Bradford Technical School in 1882. He served on the board of the Infirmary from 1883 and contributed £5,000 to the local fund for the building of a new institution. In 1898, he provided £10,000 as a benevolent fund for the aged and infirm of the city; he also supported the Children's Hospital, donated 12,000 books to Bradford Central Library.

He joined Bradford Council as an Independent member for Manningham ward in 1896, also served Heaton from 1901 to 1904 and in 1909 was elected unopposed as Councillor for Little Horton. His obituary suggests he gave away some £750,000 in his lifetime to charities which was an immense sum at this time.

He was Secretary of Bradford Technical College in 1899 and 1900, and continued to serve on the Technical College Committee.

Jacob was amongst those prominent in the field of health and welfare, contributing handsomely to the Infirmary and numerous other hospitals. He was also one of the supporters of building St. George's Hall, Bradford's magnificent concert venue.
Jacob Moser died in 1922.
Photograph from 1904 Bradford Exhibition Souvenir