Jani Rashid
Head of Diversity and Cohesion for Education Bradford, Jani Rashid, began his working life in the
printing industry and studied for his City and Guilds in Printing at Bradford Technical College in the early 1970s.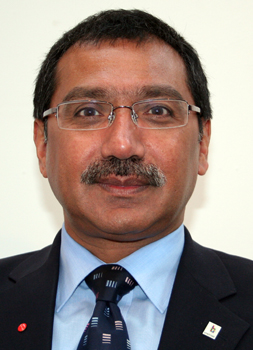 Jani joined W. N. Sharpe's Ltd as apprenticeship printer in October 1971, where he took up the role of apprentice representative on the Chapel Committee (print trade union committee). "I felt that apprentices had a raw deal in their training. Nevertheless, I have fond memories of my experience at Bradford Technical College, where I received a national award for my studies. I will never forget Roger Sutcliffe, my social studies tutor, who was really a frustrated folk singer. Roger still calls me Iftikhar Johnny and continues to churn out those old Dylan songs."

As soon as Jani served his time he became Father-of-the- Chapel and developed a new modular system of training for apprentices. He was an active trade unionist and served on the Branch Committee, where he had many achievements. Jani spent his last 4 years in the printing trade as a working director of a printing co-operative, Ujala Press Ltd, which he had helped to set up, providing a translation and calligraphic service, producing printed material in a number of local community languages as well as in English.

"In 1976, fed up of being scapegoats for the far right, along with other school friends we set up the Indian Progressive Youth Association striving for racial equality and social justice. Our first real challenge was facing the National Front in April that year when they announced their intention to march on Lumb Lane and hold an election meeting in Manningham Middle School – It was mayhem! Within 2 years we changed our name to the Asian Youth Movement campaigning locally and nationally gaining enormous support for many campaigns. Ten years later we were still campaigning and running a successful Saathi Centre for Asian youth. No longer feeling the youth I was, I decided to retire from this role!"

By this time Jani had been working as a Personnel Officer for the LEA for 2 years, providing policy advice and guidance on ways of improving employment and service delivery to meet the needs of Bradford's diverse school communities. In 1992 he became Head of Service for Section 11 and Community Support Service, managing a large team of staff supporting schools with children with English as an additional language. Jani developed a successful positive action scheme working with teacher training staff at Bradford College to improve the representation of bilingual and interculturally skilled staff in our schools. This won an Award for Adult Education for the Bilingual First School Assistants course and Jani received a certificate from Anne Widdicombe.

In 2000 Jani was seconded to work in the Change Management Division with the DfES where he developed an innovative Fast Track Leadership Programme to improve the representation of visible minorities within the senior Civil Service. He returned to Education Bradford in 2004 as Community Cohesion Project Manager supporting schools with developing policy and initiatives to address equality, diversity and community cohesion issues. In 2007 Jani became Head of Diversity and Cohesion managing a large team of staff who support schools through Bradford Interfaith Education Centre, Schools Linking Project, Supplementary Schools Education Service and Education Service for New Communities and Travellers.
Photograph by Shelagh Ward