Jeff Nuttall
Unique poet, writer, actor, jazz singer/player, painter, sculptor, teacher, critic, innovator and CND supporter, Jeff Nuttall, lectured at Bradford School of Art in the late 1960s and early 1970s.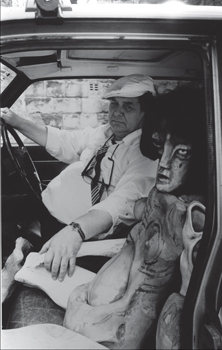 Jeff was the son of a headmaster, born in Clitheroe in 1933. He studied at art schools in Hereford and Bath before National Service in the Army. He then worked as secondary school art teacher for 12 years to 1968, although he was always involved in many other activities. He played trumpet in a Soho club and started a magazine My Own Mag of his writing and art.

In 1966 he was one of the founders of the performance art group The People Show with which he travelled, wrote and acted for years. Jeff was one of the pioneers of the improvised 'happening' later recalled in Performance Art (1979). Jeff then published the influential Bomb Culture (1968) in which he argued that living under the threat of nuclear war had made young people develop a counter culture, rejecting the values of their parents' generation.

He then taught at Bradford Art School, then Leeds Polytechnic before becoming Head of Fine Arts at Liverpool Polytechnic until his early retirement in 1984.

He was then free to take various character roles on TV, including; Chef, All Quiet On The Preston Front and Men Behaving Badly and in film, notably; Scandal, The World Is Not Enough and Robin Hood, where he was a memorable Friar Tuck.

Jeff was also a highly regarded poet. In 1975 he became Chair of the National Poetry Society and was the Poets' Conference nominee for Poet Laureate, although he was overlooked in favour of Ted Hughes. He was poetry critic for the Guardian and kept writing poetry, his final volume being Selected Poems (2003).

He also continued to exhibit sculpture and paintings, which were often outrageous and obscene. He sincerely believed in the redemptive power of art to free people from hypocrisy and complacency.

He wrote for various papers and magazines and published over 40 books: of poetry, novels, a couple of biographies, plus cultural analysis, latterly The Pleasures of Necessity (1988) and Art and the Degradation of Awareness (2001). He argued that between 1966 and 1967 the revolution was misappropriated by capitalism so poetry, art, jazz and CND where reduced to just sex and drugs – that conscience and creativity were disarmed by consumerism and celebrity culture. He railed against cultural bankruptcy but was also known for his cheerfulness, generosity and passion.

Jeff lived his life beyond full, cramming several careers into his 70 years. He enjoyed life to the very end, dying suddenly on his way back from the pub where he had been playing a trad jazz gig with his band in January 2004.
Photograph courtesy of Claire McNamee