Jim Greenhalf
Award winning journalist, author and poet, Jim Greenhalf, attended Bradford College from 1975-1977, as a mature student on the very first two-year Diploma of Higher Education course.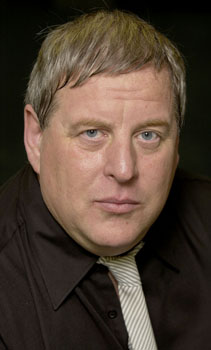 Jim scooped the UK Press Gazette Columnist of the Year and the Whitbread Feature Writer of the Year (North East) in 1989-90, 90/91, and was a triple runner-up in press awards run by BT. "As a journalist at the T&A I covered the biggest stories as well as every form of political election. I campaigned for the creation of the Law Centre and have interviewed hundreds of the great and the good, including David Hockney on six or seven occasions."
Jim recalls "I lived in the now demolished halls of residence for the duration. Although I got my diploma, I realised part way through the course that I did not want to be a teacher. One of my lecturers, the late Frank Dobbs, who had worked for The Guardian, contacted the Telegraph & Argus and got me placements of three weeks and a week, as a result of which I was offered a trainee staff position at the late (for newspapers) age of 28. For the most part I enjoyed the course because to a large degree students were given the freedom to shape their studies and write essays in the way they thought appropriate. Other students hated this approach, wanting to be told what to do and how to do it."
Jim also penned Salt & Silver: A Story of Hope, and It's a Mean Old Scene: A History of Modern Bradford from 1974. He is also an accomplished poet and his poetry has appeared in eight anthologies and literary magazines as well as The Independent. His poems have been translated into Czech, French and modern Greek and he has performed them at venues in Bradford, Ilkley, Huddersfield, Manchester, London and Prague. Some pieces have been publicly performed by Barrie Rutter's Northern Broadsides Theatre Company and Paper Zoo Theatre Company.
Jim gave a memorable reading of his poems at Bradford College's Founders' Day Concert in June 2008.

Copyright picture courtesy of the Telegraph & Argus, Bradford