John Braine
Author John Braine, best known for Room at the Top, worked at Bradford Technical College in 1938.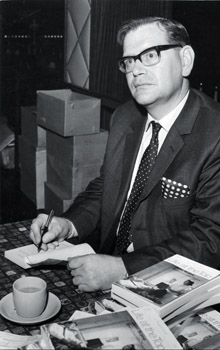 The 175 Heroes exhibition highlights that some exceptional scientific minds have passed through our College laboratories over the years. But few would realise that in 1938 they were also the place where a significant literary talent toiled when he was just 16.

John failed to achieve his Leaving Certificate a St Bede's and his early employment before working in a library is inevitably dismissed as 'dead end.' Working as a lab assistant at Bradford Technical College was his first job, so it seems that the lad who grew up to be known as one of the 'angry young men' was probably a rather bored young man.

He then found work in a shop before joining Bingley Library for 2 years until he was called up to join the navy in 1942, where he trained as a wireless operator. However he contracted tuberculosis and was sent for recuperation in Grassington sanatorium before being discharged. He returned to the library, studied and was promoted, though by this time he had literary ambitions of his own, later explaining "Being a writer in a library is rather like being a eunuch in a harem."

John spent a year in London scraping a living writing for various magazines before illness forced him to spend another 18 months recovering in Grassington. This extended stay in hospital gave him the opportunity to write Room at the Top, which was initially rejected 4 times before it was published in 1957 to huge acclaim. The book captured the mood of social change and growing disenchantment with the 'establishment'. John was able to become a full-time writer and seemed happy to play up to his brash northern reputation, claiming "What I want to do is to drive through Bradford in a Rolls-Royce with two naked women on either side of me covered in jewels." The film released in 1959 was both a BAFTA and an Oscar winner.

In the years that followed John achieved commercial success but never matched his initial impact and the literary
greatness that once beckoned failed to materialise. Initially a darling of the left wing, time and success changed his
politics and he was regarded in some quarters as selling out and growing soft. Notoriously hard drinking and chain
smoking, when he died of a burst stomach ulcer in 1986 some detractors were keen to suggest he died alone and in
penury, though this has been disputed. What should be remembered is John's impressive body of work. Remarks made a year or so earlier sum up his attitude.

"Writing. That's all it's all about. Just get it said. Never mind about messages - just tell the story, give the reader
something to read and leave the bloody establishment alone. It's nothing to do with anyone anyway. We don't really know even what it is."

John's other novels were: The Vodi (1959); Life at the Top (1962); The Jealous God (1964); The Crying Game (1968); Stay With Me Till Morning (1970); The Queen Of A Distant Country (1972); The Pious Agent (1975); Waiting for Sheila (1976); One And Last Love (1981); The Two Of Us (1984) and These Golden Days (1985). He also penned a guide for budding fiction writers: Writing a Novel (1974) and a biography of Bradford's greatest novelist, JB Priestley (1978).

His characters remained popular with the public and have continued to move from page to screen. He wrote the TV
drama series Man at the Top (1970 -1972) and Stay with Me Till Morning was filmed for TV in 1980. The Jealous
God was made into a well received movie in 2005 and the time is ripe for a reassessment of this fine Bradford writer.
Photograph courtesy of the The National Media Museum