John Loker
Painter and graphic designer, John Loker, attended the Bradford Regional Arts School, studying Graphic Design from 1954 to 1958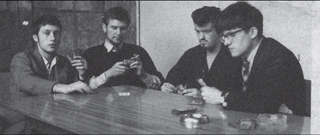 Born in Leeds in 1938, John Loker attended the Bradford Regional Arts School, studying Graphic Design from 1954 to 1958 and Painting at The Royal College of Arts from 1960 to 1963. Whilst at Bradford John's peer group included Hockney, Oxtoby and Norman Stevens.

In 1963 John was Awarded the Abbey Minor Travelling Scholarship. John's first one man show entitled Horizontals and Drawings was held at the Angela Flowers Gallery in 1970. He has received commissions for paintings from Essex General Hospital and Watmoughs Holdings, Bradford.

In 1996 John travelled across Australia from Darwin to Sydney, experiencing the contrast of landscapes and climate, the lush tropics to the arid landscape of the desert. This journey and the related experiences have had a huge influence on John's recent work which shows the vastness of landscape and space.

John's recent work includes images such as the whale's tail, the wiper and rocket debris in the desert. These can be likened to icons on a computer screen - click and they open. John comments "Painting is like clicking, to open up the potential and take the images beyond the literal".

Publications include Thriding and Littered Ways – a suite of 6 woodblocks with poetry. John Loker's work is found in public collections all over the world including Arts Council of Great Britain, The British Council, Leeds City Art Gallery, Manchester City Art Gallery, Power Institute of Fine Art, Sydney, Tate Gallery, Unilever, Victoria and Albert Museum, Wakefield City Gallery and Worcester City Art Gallery.

Photograph coutesy of John Loker, show the common room in 1956; Playing pontoon - Left to right - John Loker, Norman Stevens, David Oxtoby and David Hockney.