John Pennington
Businessman, entrepreneur, past President of Bradford Chamber of Commerce and determined
rescuer of the city's architectural heritage, John Pennington, gained a Diploma in Textiles at
Bradford Technical College in 1967.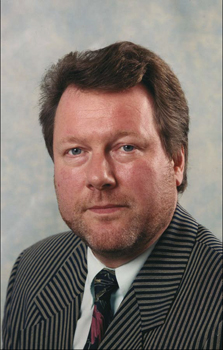 John was born in Frizinghall and educated at Fulneck Moravian School in Pudsey, which gave him an idea of what life is all about but little academic qualification apart from 3 art 'O' levels and an urgent desire to leave school. Bradford at that time was full of art students, a route John did not wish to pursue despite art being his best subject. Instead he enrolled at Bradford Technical College to study textiles.
"Leaving home on the first day at the Tech I recall my mother telling me it would be a new chapter in my life, making new friends. She was correct but we were both in for a surprise, as none of my fellow freshers were English let-alone Bradfordian. I remember Christian Kragenbul from Switzerland; Mario Gallo from Italy, who used to drive a Morris Minor without either tax or insurance and parked it anywhere; Isa Arasogli, from Lebanon, to name but a few. All testament to the international reputation of the Bradford Textile College. Textile circles throughout the world heralded Bradford THE place to educate."

After a few days I met Bradford textile royalty: Richard Stroud, who drove a new Mini; Michael Denby, occasionally in his father's vintage Bentley; Michael Holdsworth, in a very old and very big Land Rover; Peter Hansen in a dark blue customised frog-eyed sprite, Richard Fawcett and someone who was to become a lifetime friend, Edward Stanners, whose father held the agency for Harris Tweed. Great times were had at the Interlingua Club in a Salem Street cellar which provided an endless supply of au-pairs and in the 'Alex' bar in the now demolished Alexandra Hotel, opposite the Windsor Baths below the College.

My dislike of school produced failure, contrasting with my enjoyment at the Tech which saw me extending my course to 2 years, covering 22 subjects from raw materials, yarn manufacture, cloth technology, colour in textiles through to book-keeping and commercial law with an Intermediate Course Certificate as proof and FINALLY a qualification!"
John became an auctioneer for the Bradford Wool Sales, bought the famous Rock and Heifer Inn from another textile man on a hand shake. He saved the dilapidated Midland Hotel in Forster Square, restoring it to its former glory. He later converted the former Mecca Ballroom into Pennington's Variety Club, attracting top acts and TV shows, and formerly at the helm of the Old Tramshed in Saltaire. He is one of the founder members of the Bradford Odeon Rescue Group (BORG) and is currently fighting to redevelop the historic Odeon rather than demolish it.
Photograph supplied by John Pennington