Joseph Wright
Former Professor of Comparative Philology at Oxford University, Joseph Wright taught himself
to read and write aged 15 and edited the acclaimed English Dialect Dictionary. He studied at the Mechanic's Institute in the early 1870s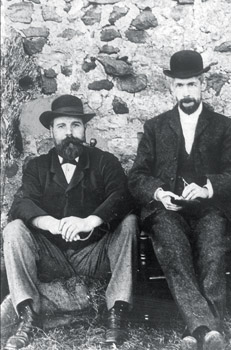 Seventh son of a navvy, Joseph Wright was born in Thackley on 31 October 1855. He started his working life aged only 6 years old as a donkey boy, taking tools from quarry-men to the local blacksmith to be sharpened. Aged 7, he became a doffer in the spinning department of Titus Salt's Mill, replacing the full bobbins with empty ones. Joseph briefly attended the mill school part time where he learned the alphabet and very basic arithmetic. Later, he gained an apprenticeship in another mill, as a wool-sorter as it was better paid.

Aged 15 and unable to read, he listened to the other workmen reading accounts of the battles from the newspapers of the Franco-Prussian War and wished he could read too. So using the Bible and John Bunyan's The Pilgrim's Progress, he taught himself to read and write.

He attended classes at the Mechanics Institute, and fascinated by languages he first learned French and German. Aged only 18, he established his own night school to help other disadvantaged students. By the age of 21, in 1876, he had managed to save up £40 to study for a term at Heidelberg University in Germany. He found employment as a Schoolmaster on his return to England, where he continued his studies.

In February 1879, aged 23, he created The Dialect Test, an early method he used to identify vowel sounds and features of speech. He captured the main vowel sounds of a specific dialect by listening to the reading of a short passage of 76 words, which included all the categories of West Saxon words and vowels, and noting the pronunciation and substitution of words.

He returned to Germany in 1882 for 6 years, where he gained a PhD in Qualitative and Quantitative Changes of the Indo-Germanic Vowel System in Greek at the University of Heidelberg in 1885. He also studied, in German, at the University of Freiburg-in-Breisgau and the University of Leipzig.

He was appointed Deputy Professor of Comparative Philology at Oxford University in 1891, and then Professor of Comparative Philology in 1901. Keen supporters of education for women, Joseph and his wife Elizabeth held Sunday Yorkshire teas for 12 to 18 young women and men for 25 years at their Oxford home which they named 'Thackley'. He became Emeritus Professor in 1925.

A specialist in dialects and 15 languages, especially the Germanic languages, Joseph was widely published during his lifetime and for 50 years after his death. He wrote a range of introductory grammars for Old English, Middle English, Old High German, Middle High German and Gothic, and received his highest acclaim for editing the 6 volume English Dialect Dictionary which he started in 1887 and published between 1898 and 1905. It is still regarded a definitive work, a snapshot of English dialect speech of the late 19th century. During this period, a Canadian University offered him a very generous salary of £500 per annum, which he rejected, preferring to complete the dictionary.

When he published the Grammar of the Dialect of Windhill in 1893, he hailed it to be "The first grammar of its kind in England: as scientific study of a living dialect intended to be useful to philologists". In 1894, he formed a committee to gather Yorkshire dialect material, which led to the founding of The Yorkshire Dialect Society in 1897, the world's oldest dialect society still in survival.

Joseph was an important influence on many distinguished writers. He tutored J R R Tolkien in the Grammar of the Gothic Language at Oxford University, corresponded with Thomas Hardy whilst editing English Dialect Dictionary and was greatly respected by Virginia Woolf, who wrote of him, "The triumph of learning is that it leaves something done solidly for ever. Everybody knows now about dialect, owing to his dixery."

Joseph died 27 February 1930, aged 74.
Photograph courtesy of the Telegraph & Argus, Bradford