Junior Witter
Boxing champion, Junior Witter, has been a World, European, British and Commonwealth Light-
Welterweight champion. He studied Computer Service Engineering at Bradford College in the 1990s.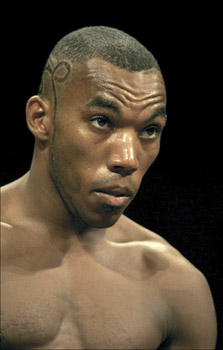 Junior's family came to Bradford from Jamaica and was born and brought up in the city. He began boxing aged 11 following the suggestion of a friend. He found that it was a useful outlet for his energies and it kept him out of trouble!

Although he had more than 100 wins as an amateur, Junior was almost 23 before he had his first professional fight. Prior to this he was qualified as a computer service engineer after 2 years at Bradford Technical College. He then went to work for Jennings Computer Engineering in Bradford, building, servicing and carrying out repairs on computers and printers. This was impossible to sustain with his training at Ingle's gym in Sheffield and so he worked the early shift in various warehouse jobs and as a barman in a social club before he turned professional.

"I was interested in 2 subjects really – computers and biology. I enjoyed my 2 year computer course. It was good at the time and I met good friends. I was really into it when I started working in computers but I realised that what I really wanted to do was boxing. I still mess about with computers but they are a profession you must keep on top of."

Junior has won 36 of his 40 fights, 21 by delivering a knockout punch. He has drawn only 2 bouts and faced only 2 defeats. No wonder he is known as Junior 'The Hitter' Witter! He won the British and Commonwealth titles in 2002;
the European title in 2004 and first won the WBC title in 2006, defending it twice before suffering an uncharacteristic defeat on points to American Timothy Bradley in Nottingham on 10th May 2008.

"My promoter is working on a return fight with Bradley. If this doesn't happen I will fight my way back in to contention. I prepared 100% for the fight but unfortunately I got it wrong on the night. I believe if I had hit my peak on the night as I did against Harris the outcome would have been different. It's a hard and expensive lesson to learn but it will make me a stronger fighter. I resumed training in June and I want to fight the first available date in September. My focus now is getting back the world championship."

Bradford College launched its Sports Academies in May 2008 and starts recruiting students to its Boxing Academy this September. We are delighted that Junior will be one of the patrons and will be the face of the Boxing Academy.
Photograph supplied by Junior Witter