Lewis Goodman OBE
Director of Marks and Spencer and Vantona, Chairman of the International Textiles, Clothing & Footwear Industries, Lewis Goodman, studied Textiles at Bradford Technical College in the 1940s.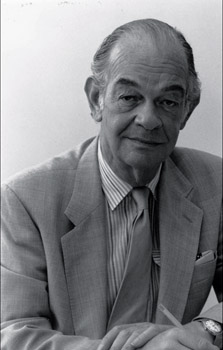 Lewis was born in Breslau but when he was 12 he was sent to safety with an uncle in Bradford following Kristallnacht in November 1938. Lewis' parents and his sister also managed to leave Germany and came to Bradford.

After completing his schooling school he studied Textiles at Bradford Technical College then served in the army for a couple of years.

He started working his uncle's textile firm beginning by sweeping floors. However when he was 22 he became a junior cloth buyer at Marks and Spencer and his obvious ability led to promotion to quality control where he devised new systems and was made Head of Technology. He was an acknowledged expert in the new synthetic fibres and he employed technicians to work with each buyer to ensure that his strict demands were met by each supplier. The systems he imposed to achieve high standards were crucial to the company's success and reputation and he was made a Director in 1968.

Lewis moved to the Vantona Group (later Vantona Viyella) from 1978 until 1985. During this period he began 12 years of service to the British Standards Institute efore spending 7 years heading up a Department of Trade and Industry initiative to develop small businesses.

Lewis returned to the College to present awards to Textile students in March 1989.He praised the work done, saying that training tomorrow's technologists was the most important job and an investment for the forthcoming Single European Market. He called for ambition, attitude and aspirations to be combined with a willingness to work together. He also offered to sponsor a 3 year travel trainee at the College.

He was generous with his time and funds and supported many causes. He was Chairman of the British-Israel Chamber of Commerce, Founder- Member and Governor of Shenkar College and the Anglo-Israel Association, and a Council Member of the Ben Uri Art Society. He was a key supporter of the Centre for German Jewish Studies at Sussex University. Another interest was mental health and he served on Barnet's Community Health Committee and the Jewish Association for Mental Illness. He was a member of the Worshipful Company of Glovers where he arranged restoration of their historic glove collection. He was awarded the OBE in 1990.

Lewis Goodman died in March 2002.
Photograph courtesy of The Times. Many thanks to Mrs Deborah Guttentag for additional information about her late uncle.