The Rt Hon Lord Sanderson of Bowden, Sir Charles Russell
Conservative Peer who has enjoyed an extensive career in textiles, finance and politics, Lord
Sanderson, studied Textiles at Bradford Technical College in 1954.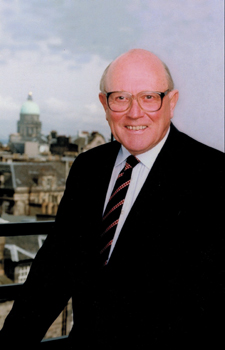 Lord Sanderson began his career in the textile industry and was a Director of both Johnston of Elgin and Illingworth Morris plc. He is currently Chairman of Hawick Cashmere Company and a Director of Develica Deutschland plc. He is a
former Chairman of Edinburgh Financial Trust, Shires Investment Trust, The Scottish Mortgage Trust plc and Clydesdale Bank . He has served on the boards of numerous companies including Yorkshire Bank plc, National Australia Bank (Europe), Morrison Construction, United Auctions, and Edinburgh Woollen Mills Ltd. He is the former Chairman of the Scottish Conservative Party and served as Minister of State at the Scottish Office between 1987 and 1990. He was made a life peer in 1985.

"I came to Bradford Technical College to learn primarily about worsted spinning. I had done National Service and came straight to Bradford from Catterick Camp!
I studied for City and Guilds and then came up home to Galashiels to learn about design and weaving, which I did. My time at Bradford Tech was good and I thoroughly enjoyed it. Mr Wilson taught us worsted spinning. He was a hard task master but I recall him saying - and I have never forgotten it – 'Gentlemen, I am teaching you worsted spinning so that you can make money. That is why you are here and never forget it!'

My business career then was working in a mill in Scotland and then succeeding my father selling Illingworth Morris worsted yarn in Scotland. Along with other textile products that business went on till the mid 1980s by which time I had become fairly involved with politics and had also been appointed to the boards of Illingworth Morris, including Woolcombers etc and also Johnston of Elgin. That had to stop when I went to Government as Minister of State for the Scottish Office in 1987. Since then I have been able to go back to textiles and am still Chairman of our own company, Hawick Cashmere Co, making fine quality knitwear, and I have also been Master of the Framework Knitters Livery Company recently.

Kingston Macaulay and I were direct contemporaries at the Tech studying part-time there when I worked at Robertshaws at Odsal Top. We have kept up ever since and his sister is my wife!"
Photograph supplied by the Rt Hon Lord Sanderson of Bowden, Sir Charles Russell