Martin Baines
Former West Yorkshire Police Inspector, currently a Director of Pacalis Associates Ltd, Dr Martin
Baines, QPM, LLB (Hons), studied Urdu at Bradford College in 1983.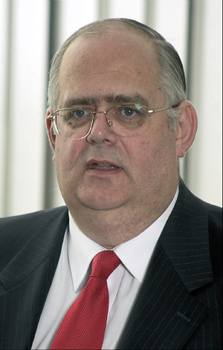 Martin served with West Yorkshire Police for over 31 years. Throughout this period he worked closely with communities across the Bradford district originating from the Indian sub continent. He became the district's Police Community and Race Relations Officer in 1996, in the aftermath of the Manningham disturbances, working across all communities in Bradford in order to build trust and confidence between minority ethnic communities and the Police.
"I studied Urdu at Bradford College in 1983 which was immensely useful in helping me to both communicate and gain an understanding of Bradford's diverse communities. A skill that on countless occasions has helped me to break down barriers and provide a service to local people at sometimes very difficult moments in their lives"
Martin was responsible for the creation and development of the Minorities Police Liaison Committee in Bradford, an independent organisation that includes members representing spheres of influence from across all the visible minority communities in Bradford. He is currently the Chair of the Bradford Hate Crime Alliance. In 2000 Martin was appointed as a member of the independent review team tasked with looking into the future of race relations in Bradford led by Lord Herman Ousley.

"Bradford College to me has always been a very friendly and open place. The thing that has always impressed me the most is the work the College has done to support the wider population and district as a whole. I know from first hand experience that this has often involved supporting local business, employment and the regeneration of the city."

During his police career, Martin project-managed the partnership link between West Yorkshire Police and AJK Police in Pakistan. He has travelled extensively in Pakistan and India, developing links with police forces and assisting in their strategic development. He has worked on numerous police related projects in India, Brazil, Colombia and more recently in a private capacity, in Bolivia. Martin played a critical role in minimising community tensions within the Bradford district in the immediate aftermath of the 7th July 2006 terrorist bombings in London.

Martin has been the recipient of numerous awards: the Bradford Millennium Award as the city's Best Citizen in 2000; the Queens Police Medal in 2003; an honorary doctorate from the University of Bradford in recognition of his work in Community and Race Relations in 2005; a lifetime achievement award by Bradford Council for Mosques in 2006 and in 2008 he became an Honorary Lay Canon of Bradford Cathedral. Martin is now a Director of Pacalis Associates Ltd and continues to be active in the voluntary sector in the district.
Photgraph supplied by Dr Martin Baines