Maureen Lawrence
Writer and award winning playwright, Maureen Lawrence, lectured at Bradford & Ilkey College in
the 1990s.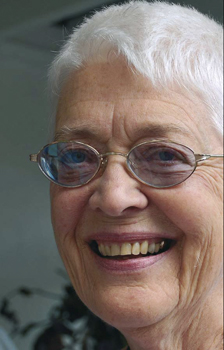 "My connection with Bradford College began when the decision to close the Ilkley campus led to a staffing shortage. As a local author and lecturer I was invited to help out with the final cohort of humanities students. In an eerily empty building these students, many of them mature and strongly committed to learning, became a closely knit and rewarding group.

I enjoyed these 2 years and they had a significant impact on my own writing career, because the gifted theatre director Annie Castledine had also been drafted in to work alongside teacher, writer and director, Warwick Dobson. The meeting with Annie Castledine led to my first play Tokens of Affection, which was the start of my work as a playwright. This play received its first airing in a rehearsed reading at the Ilkley Literature Festival and went on to tour throughout the north.

Other commissions followed, including the highly acclaimed Father's Day, (West Yorkshire Playhouse); Resurrection, which won the LWT Plays on Stage Award; Paine's Plough and Real Writing, commissioned by Corin Redgrave for Moving Theatre. This was followed at Birmingham Rep by Twins, a drama dealing with the disastrous impact of debt. The Lie of the Land, a play concerned with rural issues was commissioned and toured nationally by Charivari in 1995. A companion piece New Life was written for Blaize during the aftermath of the foot and mouth crisis.

"Meanwhile the association with Warwick Dobson was also fruitful. This led to an interest in Theatre in Education. I have devised and written many plays for young people with TIE companies and students, including a version of Woyzek at Northumbria University and many plays at the Duke's Theatre, Lancaster and Theatre Powys. Feed My People was written for Blaize and performed by children for the Queen at Beverley Minster. My most recent piece Once a Lady is based on the memoirs of Charlotte Deans, an actress, who lived and toured in the north during the nineteenth century.

A belated convert to theatre, I see drama as a great forum for ideas, finding in plays a form of communication more direct and satisfying than the fiction I wrote earlier, though the stimulus of teaching that final cohort of students did provoke me into writing one more book A Telling And A Keeping, during a most instructive and memorable spell of teaching at Bradford College."

Maureen's husband Brian worked at Ilkley College from 1971. He became Head of Library and Learning and worked for Bradford College until 1997.
Photograph supplied by Maureen Lawrence