Nona Bell
Nona Bell obtained a Diploma in Chemistry and Dyeing from Bradford Technical College in 1903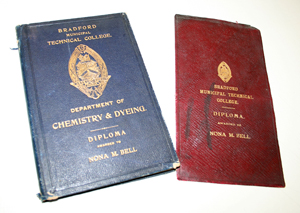 Margareta Nona Bell, daughter of Scottish born land surveyor and civil engineer George Bell and his wife Margaret Ann, was born in Rhyl, Flintshire in 1882. She attended boarding school there before coming to Bradford to study.

Aged 19, and living as a boarder in Little Horton Lane, she proudly recorded on her census return of 1901 that she was a student at the Dyeing Department at the Technical College.
She was awarded a Diploma in Chemistry and Dyeing from Bradford Technical College in July 1903. Her father had died during that year so on completion of her Diploma, Nona travelled to Montreal to assist her brother who was a cotton yarn manufacturer. She kept up with former friends she had made at College and wrote to them expressing her gratitude for the training she had received.
Her career was successful but extremely brief, as Nona sadly died on 25 July 1904 aged only 22. Her brother said that Nona had been a great help to him in the few months before her death.
She was very highly regarded and the College Magazine published an obituary paying tribute to Nona.