Noorzaman Rashid
Managing Director of global professional services, IT and recruitment company Harvey Nash, Noorzaman Rashid, completed the Art & Design Foundation at Bradford School of Art in 1982.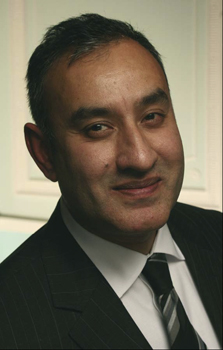 Born and educated in Bradford, Noorzaman began his career as a bright and talented artist motivated to change the world both aesthetically and politically! He joined the foundation course in art & design in 1981 and was elected course representative.

"Whilst a talented sculptor, to my amazement I was told by course tutors that I really couldn't draw. For the next 3 terms I was assigned to life drawing classes. It worked; after leaving Bradford College I went on to complete my honours degree with a distinction. Perhaps my most memorable and funniest moment at the College was when I walked into a class and worked for 6 hours on a sculpture exercise, only to find out it was the wrong class!"

Whilst at Middlesex University Noorzaman took up a non sabbatical role for all 3 years of his degree course as Vice President of the NUS. On graduation he won a scholarship to complete an MBA at the Management Centre in Bradford. Noorzaman began his career providing creative advice for small businesses in Bradford. He went on to join the City Council where he was Assistant to the Chief Executive.

During this time he played a key role in bringing Common Purpose to the city and helping to put together early plans for the city centre's development. He left Bradford to work with Coventry City Council as Head of Corporate Management, then becoming Deputy Chief Executive.

Being a trained designer didn't stop Noorzaman changing careers after leaving local government and he joined the University of Warwick as an Associate Fellow in the Business School. This led him to undertaking important change management work in South Africa, Russia and Japan. He even found time to write a book on Managing Performance in 1999.

Over the last 10 years he has worked with several international consultancy firms including EDS/ AT Kearney and Norman Broadbent International. He is currently Managing Director of Harvey Nash, a global professional services, IT and recruitment business. He has personally recruited over 300 Chief Executive Roles; everything from CEO of The Royal Opera House to the Human Fertilisation and Embryology Authority. He has been nominated for numerous awards which include The Tom Peter's award for being nominated as one of the most influential Muslims in the country.

Noorzaman is an active board member on many charitable boards including the NHS Institute for Innovation, Westminster Forum and Edutrust, one of the country's fastest growing charities. As a founding member of Edutrust, he is helping to raise funds to build 20 New City Academies up and down the country.
Photograph supplied by Harvey Nash