Norman Holroyd
Weightlifting Champion, Norman Holroyd, who represented Great Britain at Berlin Olympics in
1936, trained at Bradford College Physical Culture Club in the 1930s.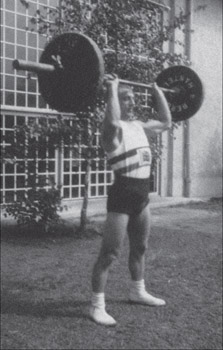 Norman was born in 1914 in Elland and started a weightlifting club with his pals in a friend's cellar, later moving to various other empty rooms. Norman then joined Bradford College Physical Culture Club.

Despite speaking to a number of the weightlifters who were training and competing in West Yorkshire at the same time as Norman, we have been unable to discover if he was ever a student at the College. However we suspect that club membership would have been on this basis and since Norman was working as a cloth processor at Norman Shaw & Sons, it seems most likely that he attended College to study Textiles.

His training at our Physical Culture Club was clearly very effective as he was selected for the British Olympic weightlifting team for the Berlin Olympics. Norman lifted in the featherweight class. He pressed 72½kg, snatched 85kg, and clean and jerked 105kg, weighing 58.8kg. He came a respectable 15th in the competition but witnessed unforgettable scenes of Adolph Hitler and Nazi top brass visiting the athletes. He also met the American sprinter and long jumper Jesse Owens, who won 4 gold medals and spoilt Hitler's plans of turning the Olympics into a demonstration of supposed Aryan supremacy.

He continued competing and was British Champion 9 times. In April 1937 he became the first English weightlifter to lift double his body weight using the clean and jerk method, lifting 120kg when he weighed only 60kg. Over 70 years later no other Yorkshire lifter has beaten this record. Norman came joint second in the World Weightlifting Championships in Paris in 1937 and was a member of the GB team that defeated Germany in 1938 and France in 1939.

His sporting career was then put on hold for the duration of WWII, Norman served on minesweepers. Resuming training after the war he was selected for the London Olympics in 1948 but was unable to compete after sustaining an injury. He retired from competition in 1950.

Norman spent 33 years working for Nu Swift International and was their Chief Quality Controller when he retired in 1979. Norman died in June 2002.

We are grateful to Ian Hampson, YNECAWLA General Secretary, for supplying the photographs of Norman and for putting us in touch with so many of his contemporaries.