Norman Stevens
Painter and Printmaker, Norman Stevens attended Bradford Regional College of Art from 1952 to
1957.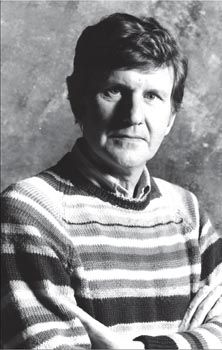 At the Art College Norman led a group of talented painters including Hockney, Loker and Vaughan, leading the way to the Royal College of Art in 1957.

Norman's art took a while to settle into a distinctive style, not fitting into the neat categories of commercial or pop art. After completing his art school training Norman took up a career teaching at Manchester College of Art and Maidstone College of Art then becoming become Head of Fine Art at Hornsey in 1971. In 1973 he took the leap and gave up teaching to earn his living by painting alone.

In 1970 Norman took up print making, and quickly mastered the techniques and processes to produce work of great finesse. Norman's last major projects included studies of Kew and Kensington Gardens. In the wake of the gales in 1987, Pirelli sponsored him in making a print of Kew's fallen walnut tree, with all proceeds going to Kew Gardens Storm Fund. In the 1988 Royal Academy exhibition Norman Stevens demonstrated his great versatility by creating a series of studies of the two gardens in a variety of media- oils, pastels, pencil and screen prints.

Norman exhibited at the British International Print Biennale in Bradford in 1979 and 1982. He was made an Associate of the Royal Academy in 1983 and then a Royal Academian in 1987. On several occasions Norman's work has been exhibited at the Redfern Gallery, London.

Norman died in 1988. A new show in tribute of Norman, with Hockney, Oxtoby, Loker and Mike Vaughan opens at the Redfern Gallery on the 22nd July 2008. Examples of Norman's work are found in public collections all around the world including the Tate, the V&A and the Museum of Modern Art in New York.

Thanks to Jean Stevens for providing biographical material and the photograph of Norman taken in 1987.