Sharon Beshenivsky
Studied at Bradford College between 2000 and 2001. Dreamt all her adult life of being a police officer but died, serving the local community before she had even completed a year.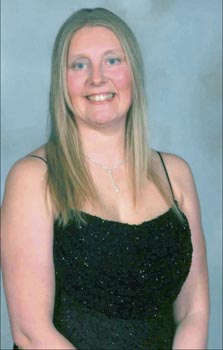 Sharon Beshenivsky studied First Aid, Food Hygiene and Stress Management at the College. Until attending the College part- time, Sharon spent many years looking after her young family and being a childminder. She was married to Paul and had five children.

Sharon first joined West Yorkshire Police in 2003 as a Police Community Support officer; she then became a Police Constable on February 7th 2005, something Sharon had hoped to be for many years. Sharon completed her basic training and joined Team 5 at Bradford South in May.

Tragically on Friday 18th November 2005 Sharon was murdered in the line of duty, protecting the very community that Bradford College is part of. Answering a routine call to investigate an alarm going off at Universal Express Travel in Morley Street, she and her colleague were shot at by gunmen robbing the travel agents. Sharon was shot, fatally.

Chief Constable Colin Cramphorn said at the time: "She has been described by her inspector and all of her colleagues as enthusiastic and very positive. Her colleagues remember her particularly for her infectious laugh. Her shift inspector told me last night he would have liked 30 Sharon's on the relief. She was very proud of her family and when she did have time to relax she was a keen bingo player."

The people of Bradford and particularly the local community, including all the staff and students at the College, were shocked at the tragic and cruel death of Sharon Beshenivsky and pay tribute to her bravery in the call of duty.

Thanks to Paul Beshenivsky and his family for allowing us to include Sharon in this exhibition.
Photograph courtesy of West Yorkshire Police