Su Blackwell
Acclaimed artist, Su Blackwell, graduated with BA (Hons) Art & Design at Bradford College in 1997.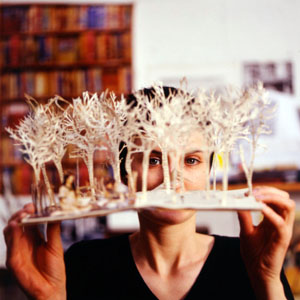 Following graduation Su completed an MA Textiles at the Royal College of Art. She specialises in stunning handmade art, book-cut sculptures and site-specific installations.

Her extraordinary work is intricate, poetic and has an unforgettable fairy-tale quality. Her incredibly beautiful paper sculptures have featured in Vogue, Harper's Bazaar and Elle. Su has also done commissions for advertising campaigns and window displays.
Su has staged highly regarded solo exhibitions: While you were sleeping at the Yorkshire Craft Centre in Bradford and in Melbourne, Australia in 2005; and Enchantment at the Fire & Iron Gallery, Kent in 2005. Su's forthcoming exhibition is at the Long & Ryle Gallery in London in November 2008. Her work has also been shown as part of numerous group exhibitions.

"Bradford College appealed to me because of its diverse structure. My chosen specialisms were ceramics and textiles, and I have continued to work in this way, crossing over boundaries and using different and diverse mediums in my work. My textiles tutor, Diane Bates, was one of the most inspiring people in my life. She instilled in me a belief in myself, and I shall always be thankful to her and to the College. The End of Year Show was a very exciting time for me, and it was good to see the culmination of 3 years of studying come together to form a body of work that I was proud of.

A turning point for me was the Erasmus exchange, living and studying in Bilbao in Spain for 3 months. I absorbed myself in the art and culture over there, and discovered a world which I previously hadn't had access to."
Photograph supplied by Su Blackwell