Rt Hon Terry Rooney MP
Member of Parliament for Bradford North and Parliamentary Private Secretary to Keith Hill MP,
Minister for Housing and Planning, Terry Rooney, studied a Dip HE, followed by a BEd at Bradford
College in the 1980s.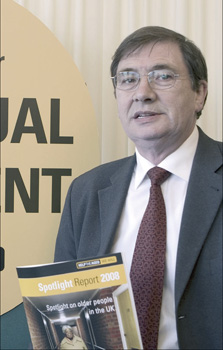 "In 1980 I enrolled on the Dip HE/BEd course which was based at McMillan on Trinity Road. In the second year one of the modules was held on a Monday afternoon at Joseph Nutter House, which is between Great Horton Road and Canterbury estate with access down an unlit path. The finish time was 4-30 to 5-00pm which was fine until the clocks altered when darkness fell long before lectures finished. You might say 'so what' but this was at the height of the Bradford Ripper murders and female students in particular were extremely worried for their safety.

Appeals to course organisers and College management for a change of venue fell on deaf ears so I started a campaign using all the student action tactics in vogue at the time, including the obligatory occupation of the Principal's office! Eventually our views were accepted and new arrangements made. It is easy 26 years on to forget the pervasive terror people felt about the Ripper's activities but they were real and entirely justified. Following this campaign I was approached by many students to run for Students' Union President but sadly I was beaten by Tony Tudor, a very popular barman at the old Alex bar, who was also on a course at the College.

I did become Student Welfare Officer which influenced my future career choices and in part led to me becoming a Member of Parliament. As with so many Bradfordians, the College has had an enormous and positive influence on my life and I will always be grateful for the experience."
Terry was elected to Bradford Council in 1983 and became Chair of the Labour Group in 1988. He was made Deputy Leader of the Council in 1990 and in November that year he won the Bradford North seat in a by-election. Since entering Parliament Terry has served on a number of committees concerned with benefits, pensions and housing issues. He was
Parliamentary Private Secretary to Michael Meacher MP when he was Secretary of State for the Environment. He currently acts as PPS to Keith Hill MP, Minister for Housing and Planning.
Photograph supplied by the Rt Hon Terry Rooney MP