Tracey Morris
Optician and Olympic marathon runner, Tracey Morris, studied Dispensing Optics at Bradford
College from 1988 to 1990.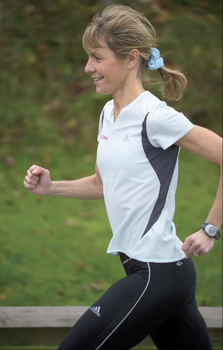 "It was such a shock coming from Angelsey to Bradford. When I arrived I had no intention of staying but soon I was enjoying it too much to leave. I was not even sure that I wanted to do Optics. I had initially planned to join the RAF to train as a PTI but it took ages so I decided to go to College in the meantime.

There were 3 of us – Joanne Liddy, Sarah Bland and myself – who were called 'The 3 Bimbos' because we were blonde. I had never been anywhere so big before but I just really loved it. One of our lecturers was Mr Jani and I went to work for his wife in Leeds later. I had never run a marathon until I was 30 when a couple of us from the opticians where I worked did the London Marathon in 1998 to raise money for the blind. Later on I had began running to keep fit and I didn't like training in the gym so I started running outside."

She joined a running club but never considered herself a serious athlete until she became the first British woman in the London Marathon in April 2004 and qualified to represent Britain in the Athens Olympics.
"I had no idea when I crossed that finishing line. I nearly had heart failure when they said I was going to the Olympics. I said 'I can't. I am back at work on Tuesday!' The next morning there was so much media attention and loads of messages from the bosses at Dolland & Aitchison congratulating me and saying not to worry about work. My employers have been fantastic. In the last 4 years I have done all 4 major championships – World, European, Commonwealth and Olympic.

I was one of 5 women who qualified for the Bejing Olympics. There were only 3 places and the team selection depended on positions in the London Marathon. However I tripped when I was running in Marakesh in January and broke my ribs. I did try to run again 3 weeks later but it was too painful and so I never made the London Marathon. But I will be running with the British team in New York or Florence later this year.
Going out training at 5am is the hardest bit but I still love it. I couldn't have dreamt of what has happened to me. I also love my job where I still work full-time. I wouldn't want to just be an athlete. You are only ever one step away from injury and if that happens and you have nothing else to think about, it is devastating. I love my patients and think I am extremely lucky."
Photographed Supplied by Tracey Morris