Trish Cooke
Writer and actress, Trish Cooke, graduated with a BA (Hons) Performing Arts degree after studying at Ilkey College in the early 1980s.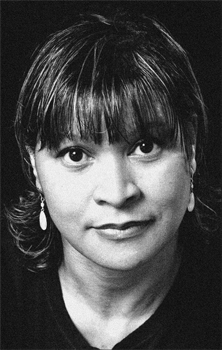 "It was a bit of a culture shock for me at first. Ducks and geese roamed freely on the campus and I was not used to being amongst wildlife. It felt very white and middle class, I wasn't sure I would stay. I was just 19 and Ilkley felt like a world away from what I'd been used to growing up with my large West Indian family in Buttershaw on a council estate, nevertheless I decided to stick it out. There were days when I felt like a fish out of water being in the minority as a black woman, but I did a lot of activities in Bradford and I was able to incorporate my projects into my course work. It was a special time in my life and one I shall always remember fondly."

Trish writes scripts for TV, theatre and radio. Her TV writing credits include Eastenders and Doctors. Radio credits include a mini series, called Unspoken and a comedy Single Plus One. For the stage, credits include Back Street Mammy and Running Dream. Her latest theatre credits include Cinderella (nominated for Laurence Olivier Award 2008) and Anansi Trades Places. Trish was Writer in Residence at Liverpool Playhouse in 1988/89; at BBC North in 2001/2, and at Second Wave Youth Theatre at The Albany Empire in 1992. Trish has also written 14 books for children, including Hoorah for Mary Seacole; Mr Pam Pam and the Hullabazoo; Full, Full, Full Of Love; Catch; Zoom and So Much, which won numerous awards. Her latest book, No Dinner for Anansi will be published in August 2008.

As an actress Trish has played many roles on TV including parts in popular dramas such as Coronation Street, Eastenders, Doctors and Casualty. From 1988 to 1996 Trish presented a preschool programme for Children's BBC called Playdays and wrote some of the scripts for the programme. She was one of the original writers for CBeebies Tweenies and has worked alongside BBC producers to develop more preschool programmes for CBBC.
"Over the years I have been both a writer and an actress. I've always enjoyed both. I'm also a mother and a wife and that leaves very little time for anything else. I juggle but I wouldn't want it any other way. I love my work and I'm lucky to be doing something I love!"

Photograph supplieed by Trish Cooke